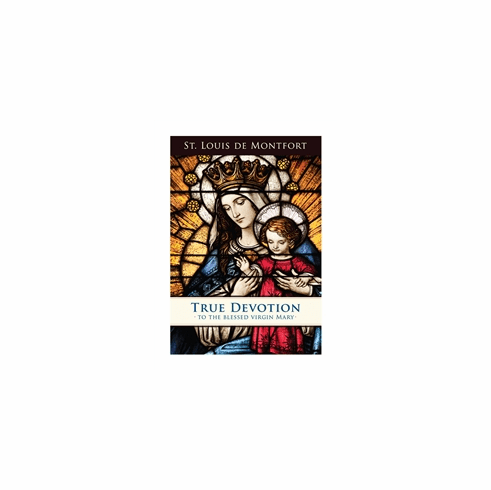 TRUE DEVOTION TO THE BLESSED VIRGIN
Author: St. Louis de Montfort. 159 pgs. Paperback.

Written in the year 1712 by St. Louis de Montfort, True Devotion to the Blessed Virgin Mary is widely acknowledged as a classic of Spiritual writing. In this book, Fr. de Montfort insists that the true spirit of Christianity is a radically profound sharing in the life of Jesus himself - which can be expressed in the words of St. Paul, "For me to live is Christ Jesus...." - and demonstrates that the key to being fully alive with the life of Jesus Christ is a genuine and personal relationship with the Mother of God. The spirituality of Total Consecration to Jesus through Mary thoroughly developed and explained in these pages by St. Louis de Montfort has proven to be a particularly powerful engine of spiritual growth and formation. Lost after the death of the saint and rediscovered in 1842, this book has exerted, since its rediscovery, a tremendous influence upon Catholic life and spirituality. Generations of clergy and religious have been formed according to its teaching including such notable figures of recent times as Blessed John Paul II and Blessed Teresa of Calcutta. Laity in all parts of the world have found within its pages the secret to a thoroughly renewed and vigorous Christian life.

Fr. de Montfort's masterpiece has lost nothing of its power and beauty with the passing of time and holds within its pages a rich spiritual treasure for the contemporary believer who is willing to enter into the Mystery of Jesus living in Mary and there to be formed by the Spirit of God into full maturity in Jesus Christ.

This edition features new translations from the original French of the Act of Total Consecration, the prayer The Little Crown of the Blessed Virgin Mary which Fr. de Montfort highly recommends be recited regularly and a Method of Saying the Rosary According to St. Louis de Montfort.