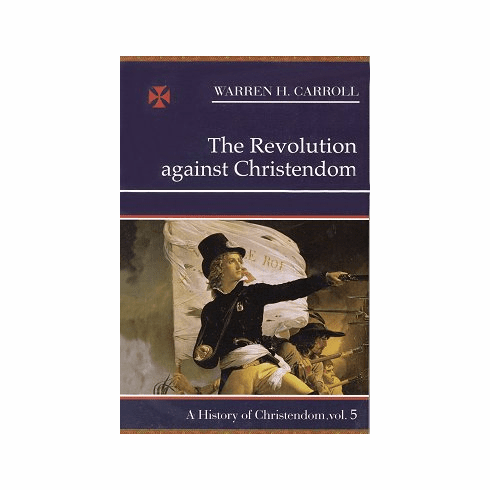 HISTORY OF CHRISTENDOM VOL. V - REVOLUTION AGAINST CHRISTENDOM
Author: Warren H. Carroll. 455p. PB

This is the fifth of a projected six volumes by Dr. Warren H. Carroll on the history of Christendom. Revolution against Christendom begins during the reign of Louis XIV and France's rise to European supremacy after the Sun King's confident supplanting of his Cardinal ministers, Richelieu and Mazarin. It ends with the shattering of Napoleon's forces at Waterloo, a defeat that was, as Carroll states, "the result of the kind of alliance that only God could make." The volume chronicles the misfortunes and disintegration of the Catholic monarchies of Europe in the face of new, hostile ideologies. Standing against the spirit of revolution, the spirit of Hell itself, was the Church and the inspiring, though often tragic, figures of Christendom: heroes such as King John Sobieski of Poland, Bonnie Prince Charlie, Marie Antoinette, Jacques Cathenlineau, even Georges-Jacques Danton, whose repudiation of the Terror of the French Revolution and return to the Church has, until now, been an event ignored in standard histories of the period.

As did earlier volumes in this sweeping series, The Revolution against Christendom reflects an unabashedly Christian and Catholic view of history, taking as one of its major themes the centrality of the Papacy to the destiny of the West. Dr. Carroll holds that God and individual men and women, not impersonal social and economic "forces," make history. The characters and actions of these history-makers, both good and evil, are vividly depicted as essential elements in the triumphs and tragedies of Christian civilization in Europe and the New World for over a century (1661-1815).

Both a gripping, dramatic narrative and an indispensable work of reference for Christian History, this volume and the entire series of which it is a part, belong in the library of every serious Catholic who desires to understand the work that Christ has done in the world through His Church and His faithful people.