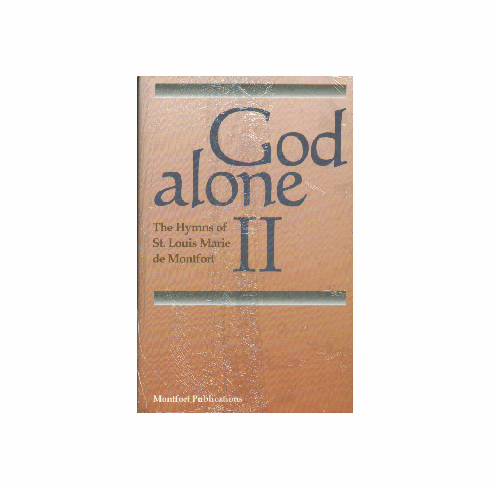 GOD ALONE II
Author: St. Louis Marie de Montfort. 639 pg. HB

The key to an understanding of montfort spirituality is to grasp that this itinerant Breton preacher of parish missions is unreservedly - madly, some would say - in love with Love Itself, the Triune God Who sent the Son to enter the human family through the Immaculate Mary's womb.

It is this event, the Incarnation, which is the source of all the saint's actions and writings, as his 24,000 verses reveal. In addition to his didactic hymns often outfitted with an outline on the margin, St. Louis Marie sings what can only be called "inspirational" songs which flow as from a spring, spontaneously, on the occasion of a pilgrimage to a Marian shrine , or as an expression of joy at his cave - hermitage in the forest of Mervent. More often, they burst forth from a mystical rapture as the saint contemplates the ineffable beauty of Jesus - Wisdom and of Mary Immaculate, the Throne of Wisdom.

These hymns, then, are meditations, prayers, sermons, although clothed in the earthy, forceful language of the baroque age of King Louis XIV. And as they were a challenge to the people of northwest France of 300 years ago, they remain a challenge to the Church of the 21st century. The hymns are part of what Pope John Paul II calls the "new evangelization" calling for the reform and renewal of the Church, especially in Christian countries. To meditate on these hymns - quite literally translated without the rhyme of the original French - is to immerse oneself into the call of Jesus to repent and fully live the Gospel.